We develop artists and bands in national and international markets. Artists don't have to change to succeed - they simply have to evolve into the best possible version of themselves. We are here to help them find their own distinct sound, to develop their songs, and carefully plan their career. We show them how to create amazing concerts and memorable live shows to share with their audiences. Furthermore, we provide marketing and promotional advice to help artists build a strong media presence in both regular and social medias.
We nurture young and established artists, on behalf of other booking and management companies as well as major and independent record labels, offering a range of single or combined services.
Bifrost Music also runs live performance workshops and seminars, for music and cultural organizations, and performing arts students. These workshops take place in several countries throughout Europe.
We sign and develop own artists, providing them with the full package. This includes production, promotion, booking and media & communication facilities.
We provide professional recording facilities, musicians and distribution channels for those who require it. You can also send us your demo to receive professional feedback.
About Bifrost Music
Bifrost Music AS is an artist and product development company that focuses on recording and live performance productions. Located in Oslo, the record label with management is run by producer Kenneth M. Lewis, co-founder and former Head of A&R at Waterfall.
A word from our artists & partners
Kenneth not only has great ears and taste, but when he truly believes in something he never stops fighting for it. We spent days and nights in the studio with him and he became a close friend and mentor. He was the fifth band-member we never had! Kenneth understands music and people, and that makes him the best ally we could ever wish for. We would not have come so far without his conviction and dedication.

Jarle Bernhoft & Fridtjof Nilsen
Former members of SPAN
"I met Kenneth many years ago when I first got involved with mixing various artists on the Waterfall label. I really liked the vibe he had helped create there and thought that all the artists they had on the label were very interesting and cool. I worked on a lot of tracks that Kenneth had recorded and was always impressed by the sounds and the quality of the production. His new venture seems like a great idea and I wish him all the best."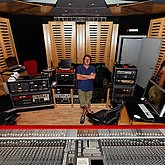 Dave Bascombe
Producer/Mixing Engineer (UK) (Depeche Mode, Goldfrapp, Tears for Fears, P.Gabriel)
"Kenneth has worked for and with Waterfall and our artists for almost 20 years, and has been completely indispensable. His ability to develop and lift artists – both in the studio and on stage – up to an international level is second to none. Kenneth has had primary responsibility for most of our international successes, and artists such as Span, Ida Maria, Lorraine, Ina Wroldsen and Alfred Hall have all gone 'Kenneth school', in their performance and stage presence."

Kai Robøle
Waterfall Music
"Being part of Bifrost, is like being part of a family! With all the knowledge they have and all the passion for what they do, there is nothing being done halfway.
The team in Bifrost is incredibly talented: they come up with innovative and creative ideas, which can make a gray stone into a shining diamond."

"Kenneth Lewis has a genuine understanding of music and musical expression. He can definitely help you reach a new level of potential at any stage in your career. And his heart is as big as his talent!"

Ida Maria
Norwegian Grammy Award winning artist